Tennessee boasts a rich history of leadership and excellence in aerospace and defense. As one of the state's key sectors, TNECD has landed eight aerospace- and defense-related projects since 2011, totaling more than $88 million in investment and 695 new jobs. Additionally, 47 establishments are engaged in aerospace and defense manufacturing, employing more than 7,000 people statewide.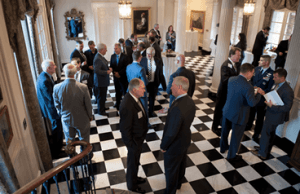 The aerospace industry's strong presence can be felt throughout Tennessee. Memphis is home to a major personnel center for the U.S. Navy along with FedEx's global headquarters and Super Hub. Bell Helicopter is operating and expanding a major production facility in Johnson City, while in Tullahoma, Arnold U.S. Air Force Base has been responsible for testing virtually every aerospace system flying since the end of World War II. Aircraft engine maintenance repair and overhaul header Standard Aero has deep roots in Maryville, and Nashville is home to Embraer and tier two supplier Vought.
In an effort to further advance Tennessee's growing presence in this sector, the Tennessee Aerospace and Defense Advisory Board has been created. Comprised of 10 members, the advisory board is made up of senior executives from the private, educational and R&D sectors who work together to advise Gov. Haslam and TNECD and on best practices, long term strategies and market opportunities to attract and expand new and existing business for the state.
| | |
| --- | --- |
| | John Castellaw – A retired U.S. Marine Corps general officer, Castellaw is the current CEO of FarmSpace Systems, a provider of agriculture services and equipment. |
| | Dennis Cavin – Cavin is a retired U.S. Army general officer who currently serves as a senior consultant with the Lockheed Martin Corporation. |
| | Maj. Gen. Terry "Max" Haston – Haston is the current Tennessee Adjutant General overseeing all National Guard activities within the state. |
| | Joseph Hurd – A retired U.S. Air Force general officer, Hurd is the owner and publisher of the Savannah Courier. |
| | William Phillips – Phillips is a recently retired U.S. Army general officer. His last assignment was as the military deputy/director, Army Acquisition Corps for the assistant secretary of Army. |
| | Dan Pierre – Pierre is a retired U.S. Air Force colonel currently serving as regional vice president for the Jacobs AERO line of business. |
| | Bradley Pray – A retired U.S. Air Force general officer, Pray serves as the deputy director of plans and policy at U.S. Cyber Command. He is also the COO of Axios, LLC. |
| | Tom Rogers – Rogers is the director of industrial partnerships and economic development at Oak Ridge National Laboratory. Prior to ORNL, Rogers helped found Technology 2020, a national award-winning regional entrepreneurial support system. |
| | Andy White – White is a retired U.S. Air Force officer who is currently the director of the aerospace and defense MBA program in the University of Tennessee's College of Business Administration in Knoxville, Tennessee. |
| | Mike Wiedemer – Wiedemer is a retired U.S. Air Force general officer who has served as a senior consultant to numerous companies in the aerospace and defense sector. |