Columbia, Tennessee is quickly becoming one of the fastest growing areas in our state.
Nestled 45 miles south of Nashville, this small town has landed on Country Living's Top 10 Best Small Towns in the U.S., is a Tennessee Main Street community and is home to former U.S. President James K. Polk.
But, if you ask a local, part of what makes Columbia so charming is its annual celebration of a particular stubborn, yet social, animal: the mule.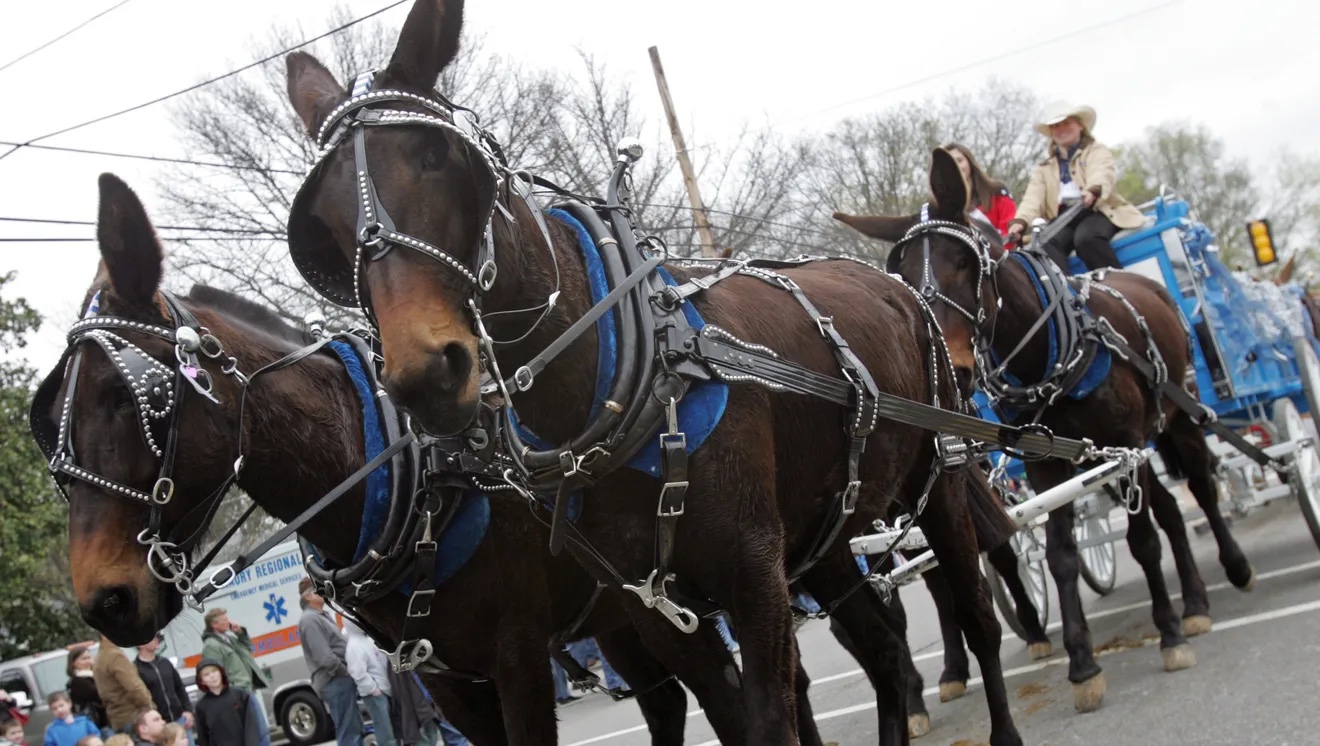 Photo: Sanford Myers/ The Tennessean
What started as "Breeder's Day" in 1840, has become an annual week-long event held in April, attracting more than 200,000 people to the community each year.
More than 180 years later, the celebration continues as Mule Day is considered Columbia's most popular event for tourists and locals combined.
Since 1934, the highlight of the celebration has been near the end of the week's festivities with an annual parade through Columbia's historic downtown.
As a current resident and native to Columbia, I can attest that beginning early the morning of the parade, our streets are jam-packed with people and vendors ready to see the floats, wagons and sights that will make their way down West Seventh Street.
Photo: Mike Christen/The Daily Herald
Not only are you guaranteed to see a mule trotting along the parade route, but you will most likely see a politician or two as well.
Former U.S. Senator Lamar Alexander, a seasoned Mule Day attendee, included in his Little Plaid Book, "Rule No. 73: Walk in  Parades."
He goes on to share, "Rule No. 74: If it is the Mule Day parade, walk in the front."
Like other Tennessee communities returning to their pre-pandemic social norms, 2022 is expected to be the largest Mule Day to date.
Columbia Mayor Chaz Molder believes "this year's Mule Day will be the most successful yet."
While the community took a two-year hiatus, the event's return will give Columbia a chance to showcase the updates to its historic downtown district.
Molder states, "I am particularly excited for this year's Mule Day and what it will mean for our small businesses. Our downtown merchants are ready to welcome all Mule Day attendees, and I believe everyone will be very pleased with the diversity of retail."
Over the years, Columbia's leadership has taken the steps needed in setting this community up for success.
For the last three decades, the city has participated in TNECD's Tennessee Main Street program, which has helped the community develop a proven strategy for revitalization by leveraging Columbia's local assets.
"Our downtown is better positioned today than perhaps ever before in our city's history," says Molder.
From leveraging historic, cultural and architectural resources to local enterprises and community pride, the Main Street program has not only helped revitalize Columbia but also boosted local morale.
It is clear that Columbia has blossomed and benefitted from the Main Street program, and it is encouraging to think how these changes will impact Mule Day for the better in the years to come.
"Mule Day is an event that Columbia is known for, and it's a part of who we are," shares Molder.
This year, Mule Day festivities will begin Monday, March 28 and wrap up the following Sunday, April 3. The annual parade will be Saturday, April 2 at 11:00 a.m. CDT. To learn more about Mule Day or find specific information on the week's festivities, visit here.