Brandon Seavers, CEO of Memphis Record Pressing (MRP), stands behind his desk, next to a wall of never-ending vinyl records, and tells the story of how he helped grow North America's soon-to-be largest vinyl record plant, right here in Tennessee.
From CDs to Vinyl
From 1997 to 2014, Seavers and his business partner, Mark Yoshida, operated Audiographic Masterworks, a CD and DVD manufacturing company, out of Memphis, Tennessee.
"In the beginning, we didn't even know how to do a purchase order," Seavers said. "And I decided I was going to be the graphic designer, but I had never been a graphic designer. I bought a computer, and I was like, 'I can figure this out,' and we did. We just grew from there."
At the end of 2013, Seavers and Yoshida were approached by one of their customers, Fat Possum Records, and together they decided to fill a gap in the resurging world of vinyl manufacturing.
"We knew we were going to have to redirect our focus because clearly the optical media industry was declining," Seavers said. "We were like, 'Why don't we give it a shot?'"
After buying a former pressing plant in New Jersey, they brought all the gear back to Memphis and worked hard to build out the necessary infrastructure required to power vinyl production, while simultaneously scouring the nation in search of someone to bring the aged machines back to life. In January of 2015, MRP officially opened to the public.
"Making the record was just so incredibly complicated," Seavers said. "Just the process of getting the equipment rebuilt, installed, getting all the infrastructure that powers the equipment, those were challenging things."
Memphis Record Pressing Finds Its Groove
Despite the difficult process of getting started, the opening of MRP was welcome news. Seavers said his phone rang every day for a year with people from all over the world on the other line wanting MRP to make their records.
Since 2015, MRP's growth has been dizzying. In their first year, they made 800,000 records. In 2022, they're on track to make about 10.5 million, a 1,200 percent increase.
So, what's the reason behind the resurgence of vinyl records? According to Seavers, it comes down to two things: ownership and collectability.
"What we've seen is a drive back to ownership because music is such a vital part of who we are," Seavers said. "Combine that with collectability – you want to collect things that belong to the passions you have, whatever art form that might be."
In June 2016, MRP joined forces with GZ Media from the Czech Republic, the largest manufacturer of vinyl records in the world. They wanted to have a U.S. manufacturer footprint, and with the opening of MRP being the talk of the town at the time, it proved to be a perfect fit.
On March 24, 2020, MRP shut down for 38 business days due to the COVID-19 pandemic. They reopened on May 4, 2020. During that time, they couldn't help but wonder, 'Is this the end?'
The short answer? No, not even close.
"By the time we got to July of 2020, we were getting orders like we had never imagined," Seavers said. "It was like the floodgates had opened. It was insanity."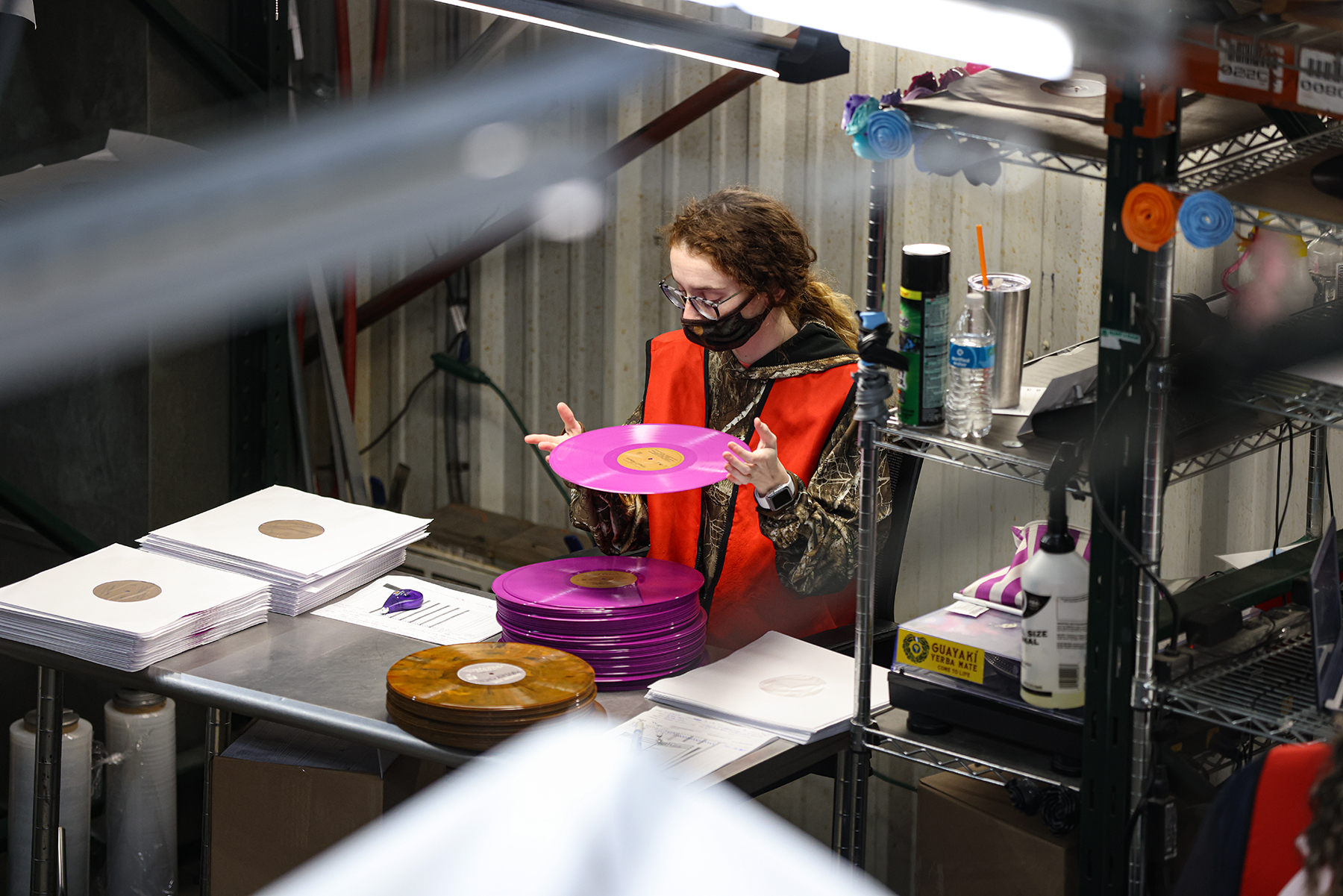 Photo Credit: Memphis Record Pressing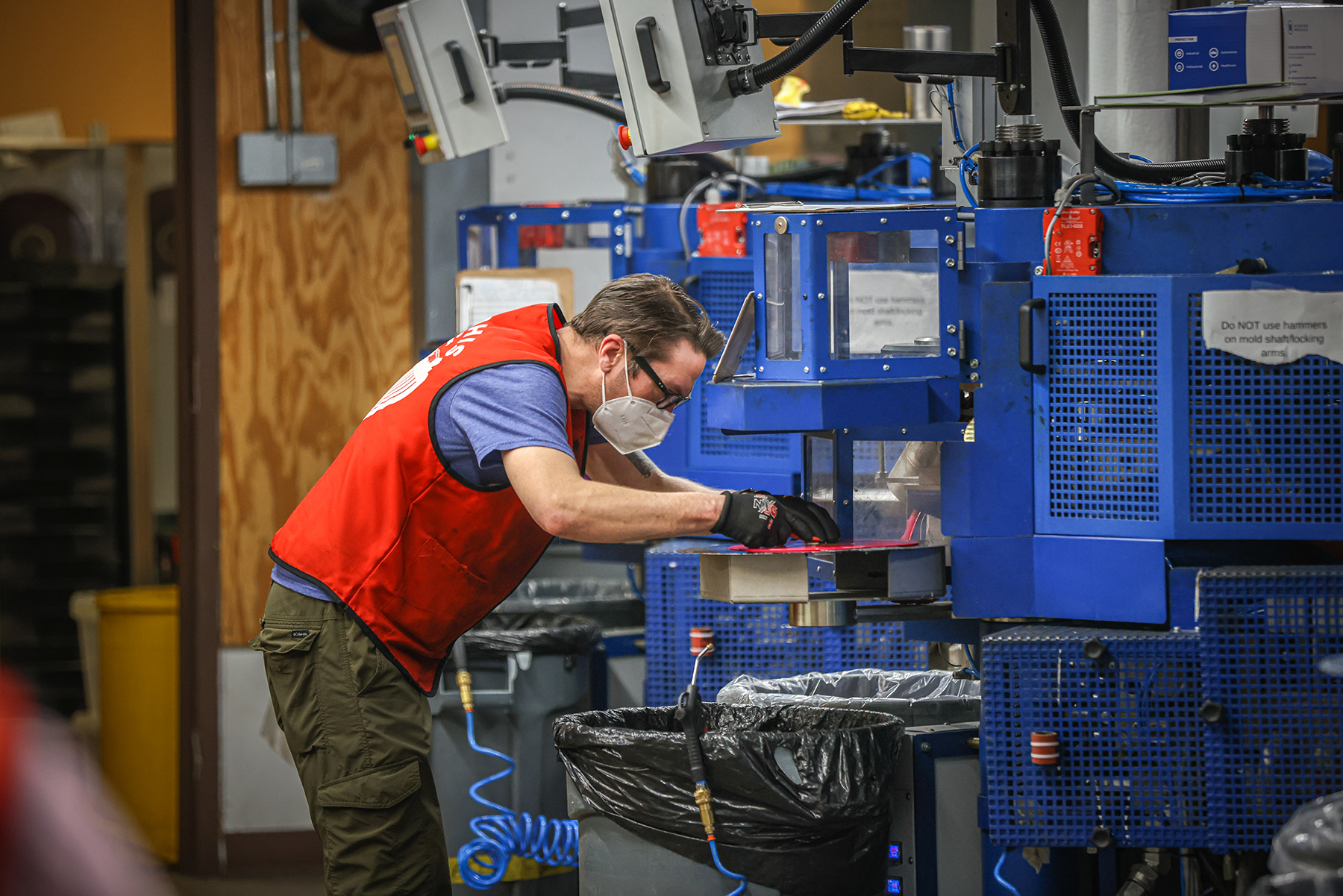 Photo Credit: Memphis Record Pressing
Memphis Record Pressing Decides to Expand
Fast forward to the end of 2021, most vinyl plants in the U.S. were already booked for 2022 and booking into 2023. That's when MRP knew they needed to take advantage of the demand, so they started plans for a $25 million expansion.
"Last year (2021), we made about seven million records, and by the end of 2023, our possible output will be around 26 million," Seavers said. "It's quadrupling our capacity essentially."
This expansion is going to take MRP from 16 presses and over 180 full-time employees to 36 presses and just under 500 employees. They are also opening a secondary facility where they will handle all their packaging, shipping and receiving.
"It's exciting! It's going to propel us to one of the largest vinyl plants in the world, and certainly it will be the largest vinyl plant in North America," Seavers said with a twinkle in his eye. "To have come this far this fast, that's the thing that just blows our mind."
"It's going to propel us to one of the largest vinyl plants in the world, and certainly it will be the largest vinyl plant in North America."
Seavers used to say that it takes two things to make vinyl records: steam and cool water. You have to heat it up, and you have to cool it down, but over this past year he's realized that without the people, they wouldn't be able to do anything.
"We want people to come here and take ownership of the process," Seavers said. "They're never going to be as passionate about it as I am, but we want them to care about the work they do because the more that we care about what we do, the better work we produce."
According to Seavers, there are quite a few voices that say vinyl is back and here to stay.
"It's clearly not a fad. It's been growing since 2008, so we're in our 14th year of growing. Fads don't last that long. Cabbage Patch dolls did not last that long," Seavers said with a smile.
As long as the turn tables keep spinning, vinyl records will continue to be mastered in Tennessee.
To learn more about Memphis Record Pressing, visit MemphisVinyl.com.