After a year of economic uncertainty, the world is beginning to recover and Tennessee's project pipeline is as robust as ever.   
It's no secret that economic development in Tennessee is thriving. U.S. News and World Report ranks Tennessee as the number one state for fiscal stability.   
U-Haul released its annual list of states most people moved to and this year, for the first time ever, Tennessee ranked number one. 
Since 2020, TNECD has announced 140 projects, more than 22,000 job commitments and nearly $10 billion in capital investment. These projects have touched every region, and TNECD has secured some record-breaking wins for the state.  
For National Economic Development Week, we took a look at each of TNECD's nine regions to recap the activity, projects and job creation that's going on across Tennessee.  
It's easy to see why Tennessee continues to make headlines as a leader in advanced manufacturing, life sciences, automotive and agriculture. Each of the nine regions has seen growth and success in the past 17 months, which is all the more meaningful given the pandemic. As the world re-opens, let it be known that Tennessee is open for business.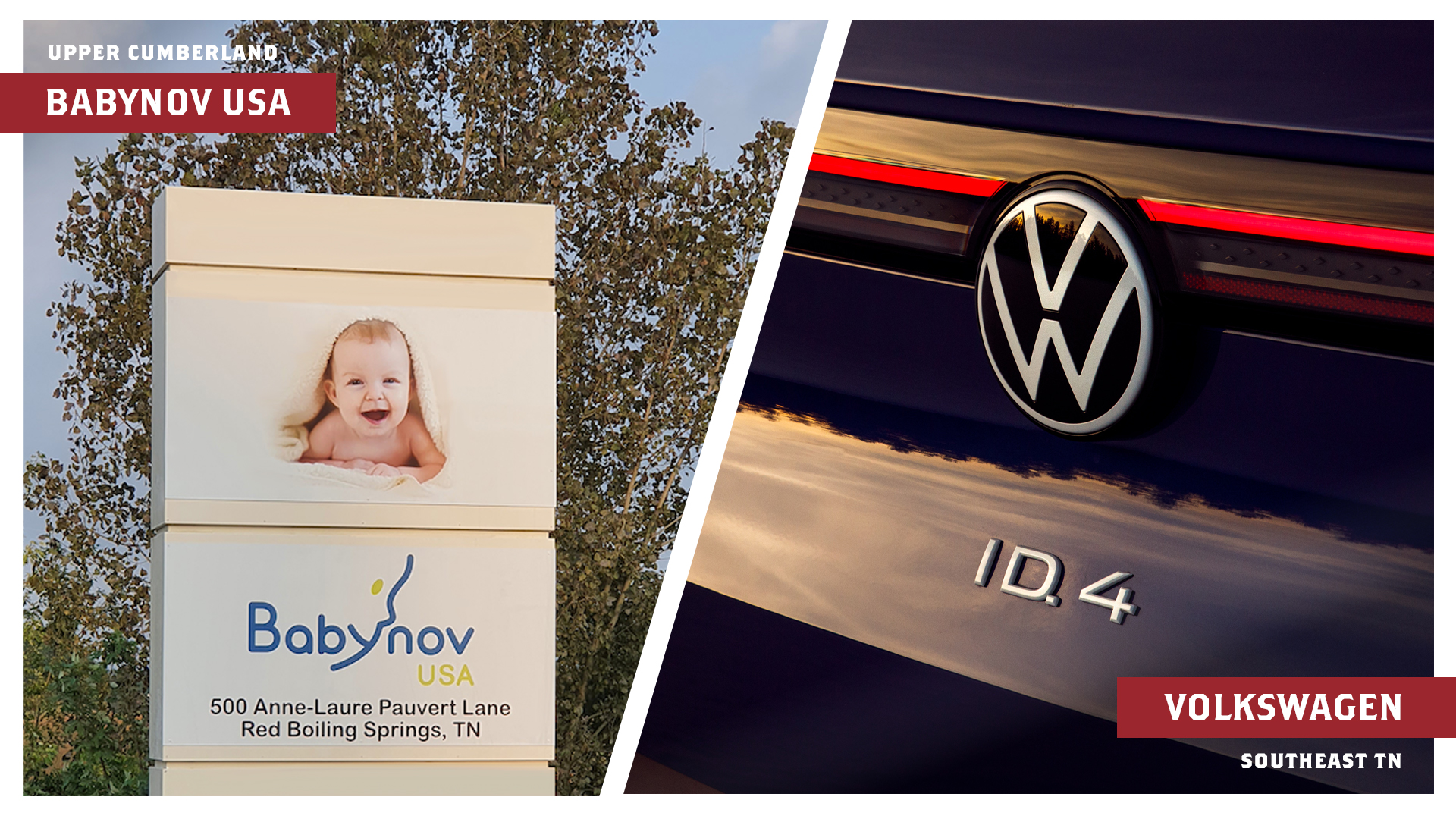 Photo Credit: TNECD / VW
Upper Cumberland

Eight projects have been announced in the Upper Cumberland region since last year. Three notable projects include TTI Floor Care investing $20 million and creating 500 new jobs, Aphena Pharma Solutions investing $21 million and creating 160 new jobs and Babynov USA investing $45 million and creating nearly 150 new jobs. These companies touch a number of sectors, from life sciences to advanced manufacturing, and further Tennessee's reputation as a global leader for foreign direct investment, with Babynov's parent company Global Baby having headquarters in France.
Southeast Tennessee

Tennessee ranks number one in the Southeast for electric vehicle manufacturing, and Southeast Tennessee has been busy recruiting companies that are vital to the success and support of this rapidly growing industry.  
Located in Chattanooga, Volkswagen has partnered with several companies to ensure the success of its all-electric vehicle – the ID.4. Global OEM supplier Gestamp announced its third investment in the last decade at its Chattanooga operations. Its nearly $95 million investment announced in November 2020 will primarily support EV production. Sese Industrial Services is currently building a 300,000-square-foot axle assembly plant for the Volkswagen EV line.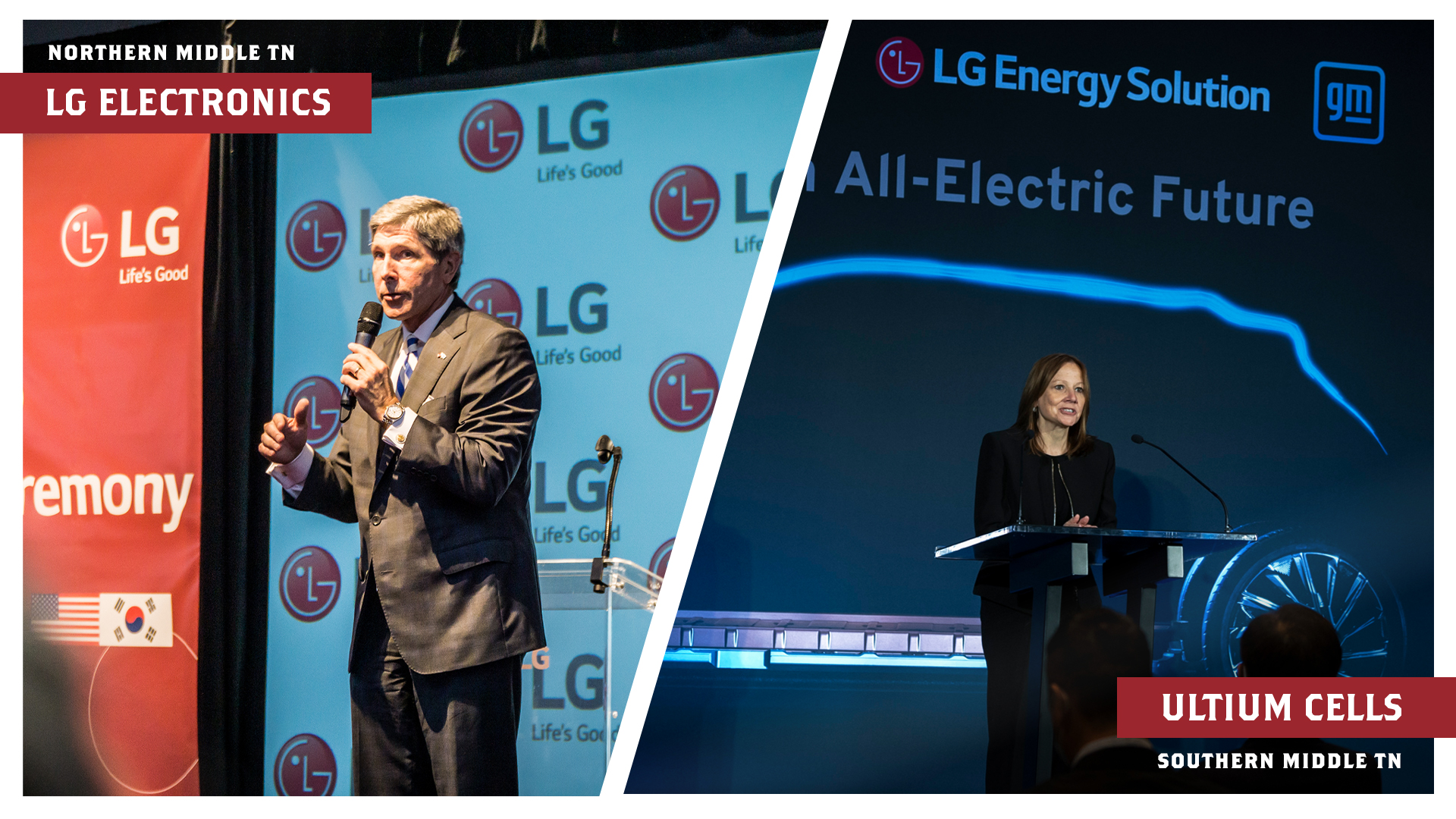 Photo Credit: TNECD
Northern Middle Tennessee
Northern Middle Tennessee has earned a reputation as a top place for job seekers and companies to find success. A study by LinkedIn's Economic Graph team highlighted the top cities with the most opportunity for job seekers in 2020 with Nashville ranking among the top 10 cities at number eight. Over the past year, this region has landed 40 projects representing more than 9,000 new job commitments and $2.2 billion in capital investment.   
Since January, companies like LG, NTT DATA, Gap, Royal Canin and many more have committed to this region. Greater Nashville is booming, and the state's favorable business climate allows Northern Middle Tennessee the ability to attract and retain talent.  
Southern Middle Tennessee
The Southern Middle region has landed eight projects since the beginning of the year. Four of those are new recruitment projects to the state, including a company from California, and the recently announced Ultium Cells joint venture of General Motors and LG Energy Solution. It is the largest economic development investment in the history of Tennessee and will create 1,300 new jobs in Maury County while furthering Tennessee's reputation as a leader in the EV evolution.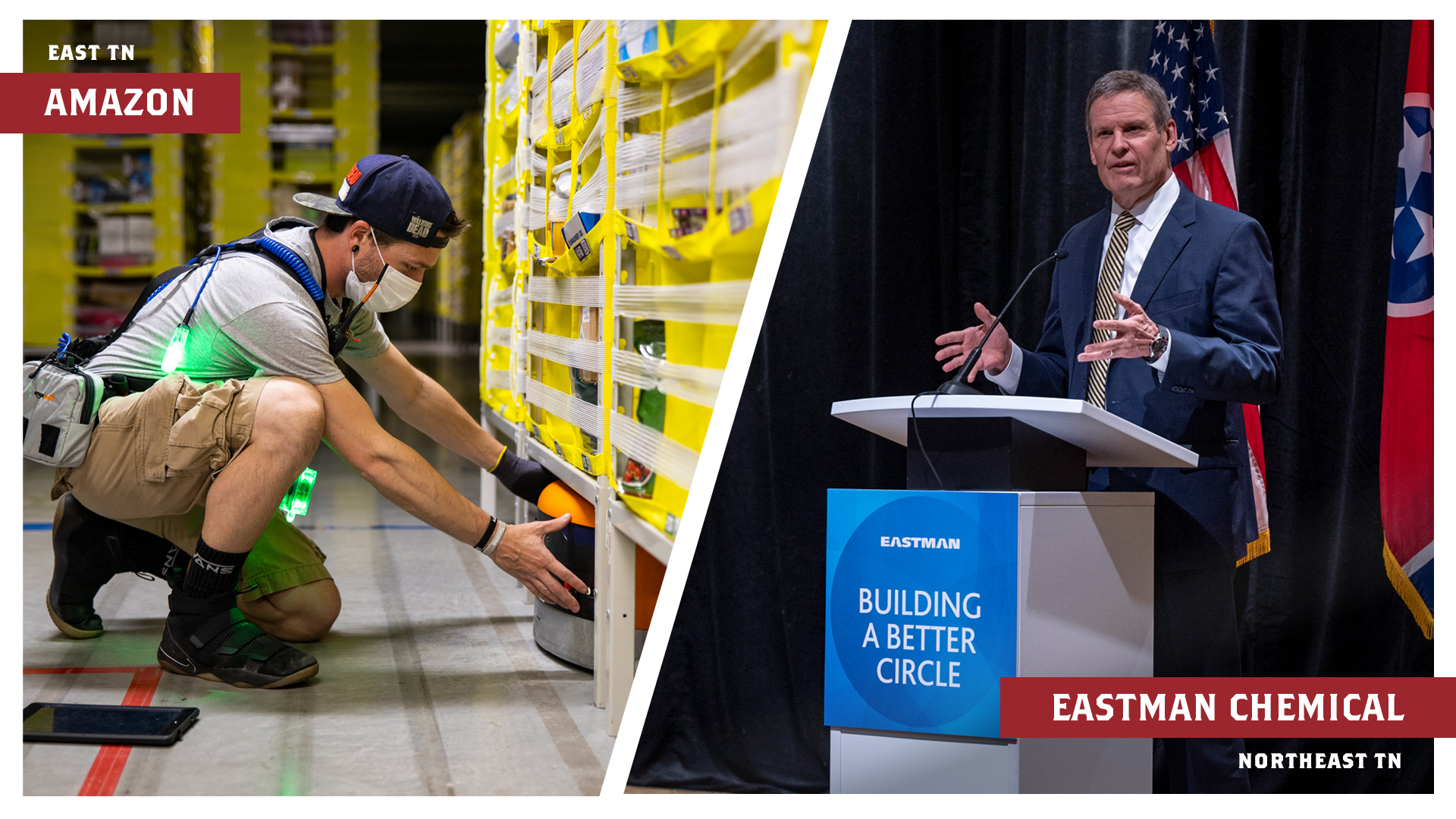 Photo Credit: Amazon / TNECD
East Tennessee
Economic activity is picking up in East Tennessee. In 2021 alone, nearly $300 million has been committed to this region. This includes projects from leading companies like Amazon and IT and business consulting company CGI. In addition to creating 300 new jobs in Knox County, CGI will partner with the University of Tennessee, Knoxville to engage students and build a talent pipeline. 
Northeast Tennessee
In the midst of a pandemic, Northeast Tennessee stepped up and continued its tradition of quality and hard work. The region has gained roughly 1,000 job commitments since the beginning of 2020, pouring more than $640 million dollars into the local economy. Continued growth in high quality jobs and increased wages is resulting in more companies actively seeking to relocate and do business in this part of the state. Eastman announced a new process for recycling plastics that will be the flagship for the future of plastics recycling in the world. Eastman's $270 million investment has the potential to fundamentally change how we redirect plastics from landfills for future generations.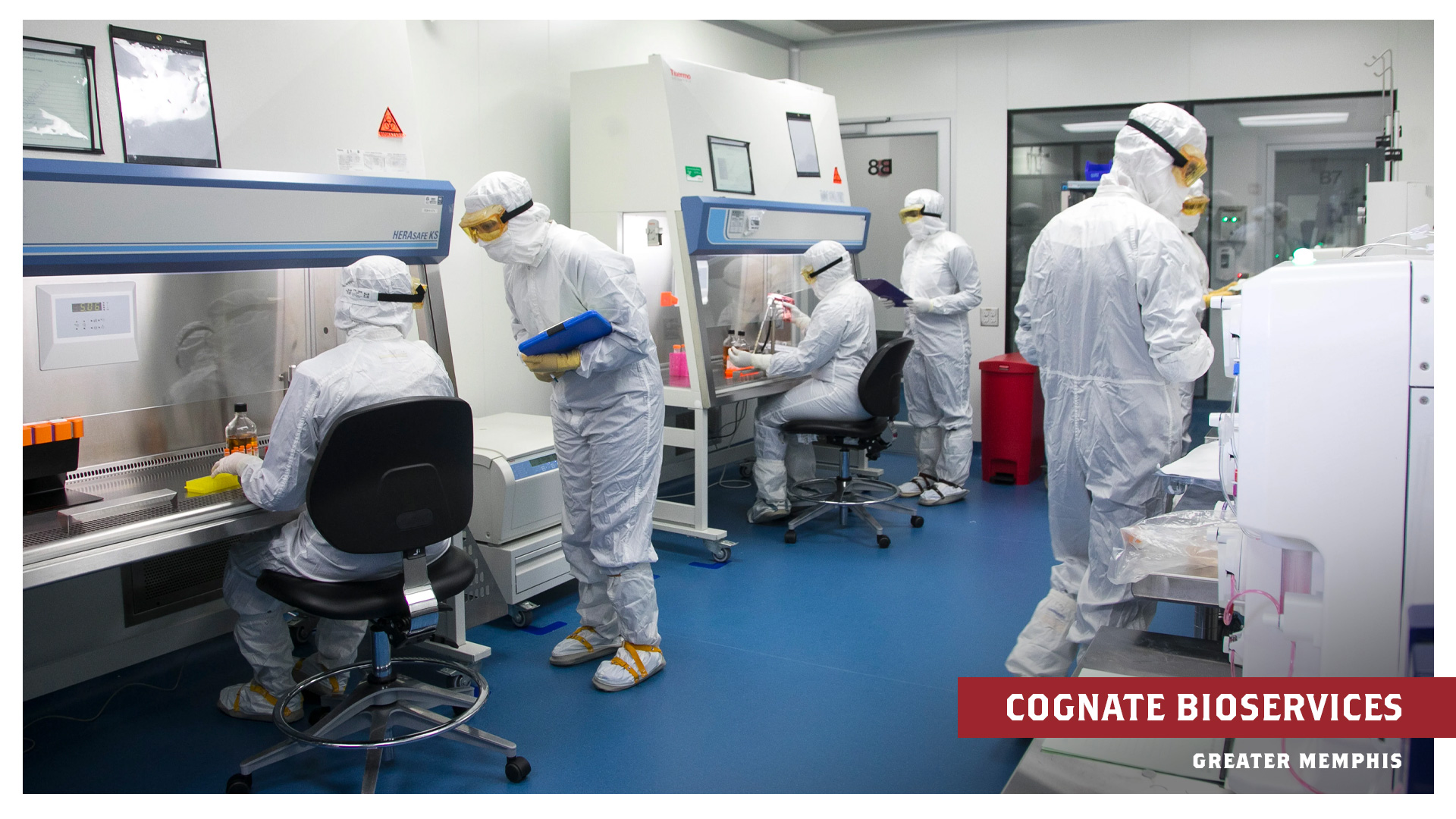 Photo Credit: Cognate Bioservices
Greater Memphis
Long known as the world headquarters of FedEx, Memphis is also home to significant operations for DHL, UPS, and Amazon. These shipping giants, along with the more than 400 trucking companies located in the area, worked tirelessly throughout the pandemic to move important goods through the city. As a result, Memphis was recently named the world's busiest cargo airport, moving more freight than Hong Kong or Anchorage. 
The Greater Memphis region saw continued job growth throughout 2020, on par with pre-pandemic levels. The past eighteen months have been particularly strong for life science companies seeking to locate or expand close to the city's logistics infrastructure.  Cognate BioServices, which specializes in the development and manufacturing of groundbreaking cell and gene-based immunotherapy, recently announced its intent to nearly double capacity at its Memphis facility, creating hundreds of jobs. More recently, Alphatec Spine selected Memphis for its new global distribution center, committing to create nearly 100 new jobs.   
The Greater Memphis region's logistical strengths mean companies can get their products directly to their customers faster than any location in America. And companies know that Memphis can provide the highly trained workforce needed to operate in today's fast-paced economy. 
Photo Credit: TNECD
Southwest Tennessee
A goal of Governor Lee and TNECD is to support rural counties, especially those classified as at-risk or distressed. Hardeman County is one of the 11 economically distressed counties in Tennessee, so it was particularly meaningful when Choate Engineering Performance announced it was creating 100 new jobs and investing $8 million to establish operations in Bolivar.   
This was one of 13 projects announced in the Southwest Tennessee region over the past 17 months. In that time, companies have invested over $416 million and 70 percent of the jobs created were automotive-related. This region has a strong reputation for quality work in the automotive and advanced manufacturing sectors and contributes to Tennessee's global status in these industries.

Northwest Tennessee
Northwest Tennessee is considered the "breadbasket of Tennessee." The agriculture industry of Northwest Tennessee plays a pivotal role in providing not only for Tennessee, but the entire country. Among the eight projects and more than $280 million announced in this region since 2020 was Tyson Foods announcing an expansion in Union City. Tyson Foods will invest more than $87 million and create 230 jobs, furthering its commitment to Tennessee. These projects support Governor Lee and TNECD's goal to land at least 45 percent of projects in rural counties.